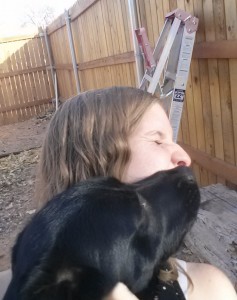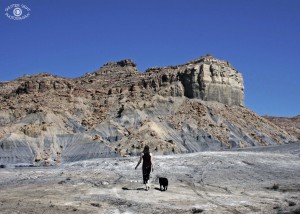 I'm Ashley, a new voice here on the Lake Powell Real Estate Guide. I am Heather's daughter, next door neighbor, and assistant to name a few. My half black lab, half german shepherd 1 year old pooch Bristol is my best friend and hiking partner. Together, we will be your guides for exploration of the Lake Powell Region in the latest series to the Lake Powell Real Estate Guide: Bristol's Adventures. In this series, I will share my life long passions for the local landscapes and photography of them. Bristol will share her photo modeling talents.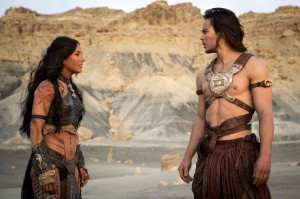 Almost every day, I take Bristol for a quick breath of fresh air and freedom on a run to the Moon. "The Moon?" You just asked yourself as a slightly puzzled expression crossed your face and the thought entered your mind that I might be crazy. Yes! The Moon. We load in our space ship and go land on a moon of Mars known as Barsoom. At least, that's what John Carter did in the Disney film "John Carter of Mars". One of the privileges of residing in this region is that I just load into my Chevy Lumina and cruise down there in roughly one minute.
"The Moon" isn't really a planet circling Mars. It's a stretch of tropic shale at the foot of the Kaiparowits Plateau, which towers over Big Water, Utah. It garnered the title "The Moon" from locals some time ago for the appearance of the shale: a grayish-blue powder, partnered with it's speckled-craters look. (Hence it's being chosen as the location to film John Carter of Mars). The shale spans miles and miles.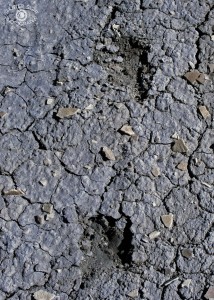 "What is tropic shale?" You're now asking. Sometime in the Cretacious period, this region was once beneath a very large ocean. Who-knows-how-many-million years later, that ocean is quite obviously gone. The tropic shale is the several million year old version of what was once the ocean's floor. The neat thing about this is that the ancient, dead (thankfully), dinosaurs (monsters) that once roamed the ocean are now fossils within that shale. Not only does The Moon attract film makers, tourists, off-road enthusiasts and hyper puppies; but paleontologists and scientists also.
My brother, David Rankin, has made several dinosaur discoveries in the shale, including a few Plesiosaurs: basically the lochness monster of the Cretacious ocean.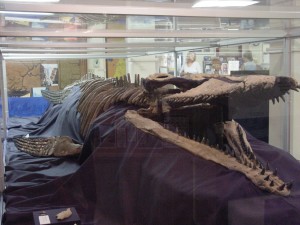 Large, scary dinosaur with flippers. One of his finds is pictured here. If you hunt around long enough, you might just find some ancient shark teeth sitting on the ground, or maybe an ancient snail: an ammonite. The point being, as a resident of Big Water, Utah this is my backyard and you should be jealous, then remedy that jealousy by making it your backyard also (I know a great realtor if you need one). Furthermore, this is my dog's backyard, and I think she might love it more than I do.
So today, we loaded up and drove down the "Creek Hill" behind Big Water. At the bottom of the Creek Hill is guess what: a Creek, Wahweap Creek, which drains into Lake Powell at Warm Creek bay. We drive across the creek, which can be done easily in most any vehicle if it is not flooding. If it is flooded: don't try to drive across it! Take my word for it, as a traumatized passenger who has experienced it. After crossing the creek, one more short uphill, and we have arrived at The Moon.
This photo was taken right after crossing the creek, looking back at the Creek Hill we drove down to get here. And here's Bristol enjoying Wahweap Creek.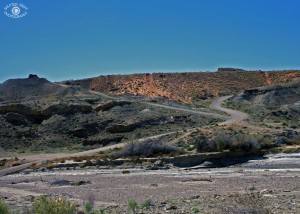 Onward, the road that crosses the Moon is many miles long, and the Moon area is a gateway to many amazing exploration opportunities, such as The Wahweap Hoodoo's and Alstrom Point on Lake Powell. Here's John Carter enjoying reduced gravity on "Barsoom", taking a leap over the Hoodoo's.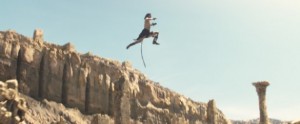 Bristol and I don't have that luxury though. We like to cruise about a mile down the road before pulling off into the shoulder and setting loose.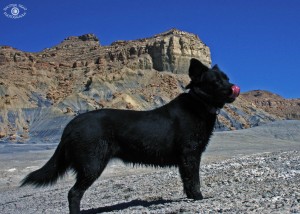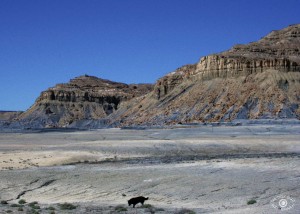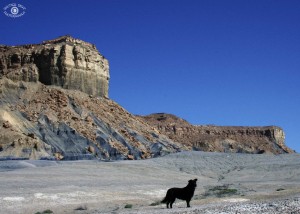 After enjoying some time running around the Moon, we head back for Big Water and the Creek Hill, stopping to take a break for Bristol to get hydrated in Wahweap Creek.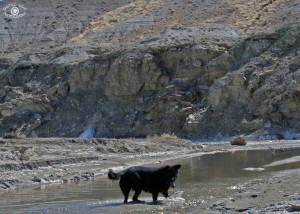 If you'd like more information on The Moon, finding it when you get here, or any of the hikes it serves as a gateway to, you can stop in to the Big Water Visitor Center on Highway 89. Please also feel free to ask in the comments.
Comments
comments