Last Sunday, October 6th, 2008, the Salt Lake Tribune ran a feature article on Lake Powell fishing and quoted Wayne Gustaveson heavily. Wayne G. has been a local fixture at Lake Powell for 33 years and writes not only a weekly article for our local Lake Powell Chronicle but has the awesome fishing resource page Wayne's Words. Wayne is the go-to guy here at Powell for fishing, and is the head biologist of the Lake Powell Project for the Utah Division of Wildlife Resources.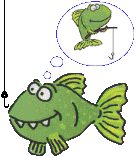 After reading the article it is one more testament as to why
Outdoor Magazine
rated the
Page Lake Powell
area one of it's
Top Ten Places to Live
.The Tribune article was informative and made several great points.
It may be odd that a state employee runs a blog the size of Wayne's Words, but our visitors are the best fish management tool for a fishery the size of Powell.
The forage fish are what drive the Lake Powell system but there are plenty of predators. It's not politically correct to introduce more forage fish but we can control the population of the predators. With 3 million visitors a year – lets send each one home with a fish!
Sport fishing, especially for the "strippers" or striped bass, has been spotty recently, because the fish are full. A natural decline in forage fish should happen and by early next year the sport fishing should be on the rise as the "strippers" get hungry again.
In 1991 a 48 lb 11 oz Stripper was caught and is the State of Utah and Lake Powell record. (side note: I REMEMBER THAT!)
A wee bit of fishy history
Strippers, or Stripped bass, were planted in Lake Powell in 1974. Up until then they were thought to only be able to reproduce in a salt water environment. Strippers fight hard so they are a good sport fish. The idea was, put 10,000 in and pull 10,000 out. However, the strippers adapted to the cool water of the underflow of Lake Powell. The sharp canyon walls, with the water moving by, makes for nice eddys underwater, the perfect place for the strippers to reproduce.The last time a census was taken was in 2006 when 2.6 million strippers were caught by our Lake Powell fishing enthusiasts. While there is no way to exact the number of fish for sure, Wayne says with that many caught there are probably between 10-30 million in the Lake.There is NO Limit of the amount of strippers that can be caught at
Lake Powell
. While the other bass have high limits as well, a family out fishing can pull as many strippers as they want.
Links and Resources
For more information on
Lake Powell Fishing
and the weekly fishing forecast visit
Wayne's Words
The webpage includes a weekly report of action at the massive reservoir, photos from successful anglers and in-depth descriptions of useful techniques.
Salt Lake Tribune Article
Information on Lake Powell Real Estate and the complete MLS available home and property search for the Lake Powell area including Page, Greenehaven and Big Water
Comments
comments