Today was a big day for the Big Water Fire Department as it saw 4 of their volunteer fire fighters receive Utah State Fireman Certification!
Congratulations to:
Mike Daniel
Dave Dobbins
Jerod S. Mock
Brian Sherlock

CLICK IMAGE FOR LARGER VERSION
All of the above passed Firefighter 1, Firefighter 2, Hazardous Materials Awareness, Hazardous Materials Operations.
As well as the above classes Mike Daniel also now qualifies as a Firefighter Instructor.

Mayor McBride, Chief Horning, and Councilor Rankin were all on hand to honor these folks and watch as the Mayor presented them with all their certifications and badges. More members of our department are working their way toward certification so it is exciting to see what the next year will bring.
We are all grateful the time, effort, energy, and dedication these folks have shown!
CLICK FOR LARGER VIEW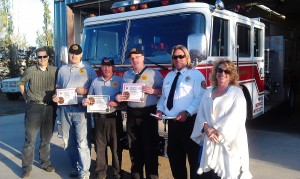 This post is also on the Big Water Town Website at www.bigwatertown.org under Fire Department.
Comments
comments