Launching this summer at the Stateline Launch Ramp on Lake Powell was easy as the National Park Service had a section blocked off for non-motorized vehicles.  We pop the boards in the water and then we are off.
Living 15 minutes from the main launch ramps at Lake Powell certainly has advantages and one is paddleboarding on short notice. It takes a hot minute to pop my inflatable Body Glove board into the back of my Yukon and head to the lake. Last time I checked, 13 minutes to get from home to the entrance booth.
Set Up and Heading Out
Once to the water, we park, pull out the boards and plug in the electric pumps. While getting sunscreened up, and checking our small coolers and lake supplies, the boards are being inflated by small, rather noisy blue pumps, which, thankfully, stop automatically when the maximum pressure is reached.
Most of my friends, and myself, prefer to sit on the boards as opposed to standing, although two of my local grandsons due a remarkable job of standing and paddling. Being able to quickly get off the board to swim, explore, or just to turn and dangle my feet in the water while we visit is one reason I went with a paddleboard as opposed to a kayak.
The other big deciding factor was I can do this all myself as the inflatable boards are so compact when deflated that they come in a back pack type carrying case which holds the board and the paddles easily. It is a bit of an origami trip to get it put back at the end of the day, but I got it figured out pretty quick.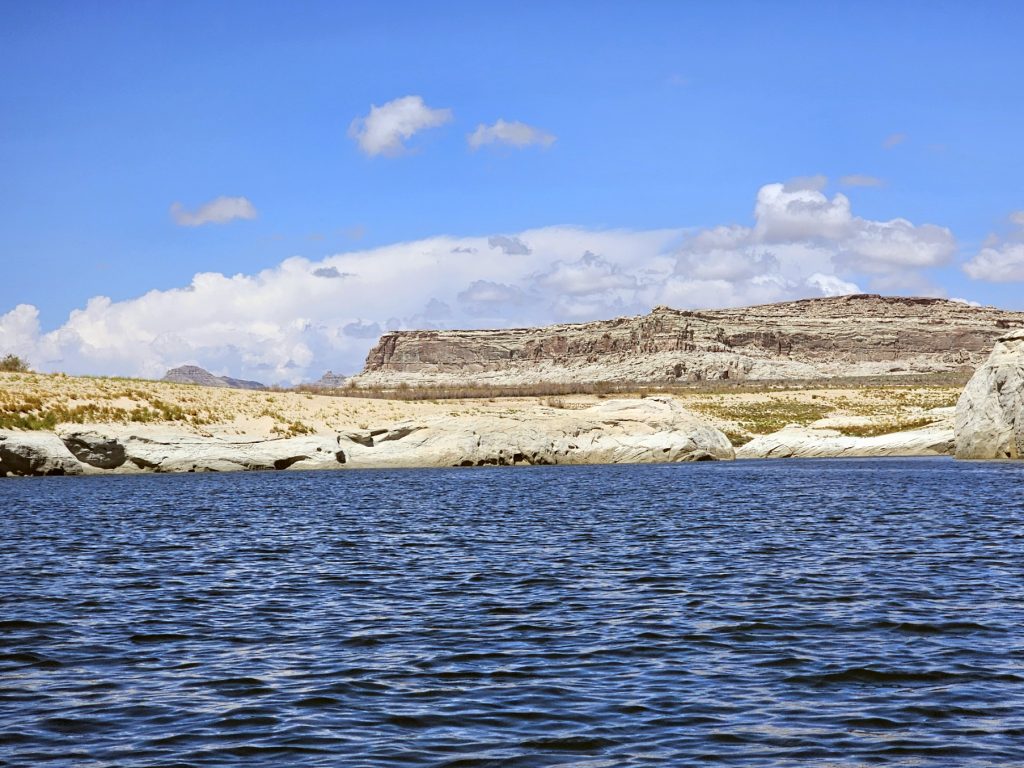 Stateline Launching
Launching this summer at the Stateline Launch Ramp on Lake Powell was easy as the National Park Service had a section blocked off for non-motorized vehicles. We pop the boards in the water and then we are off.
Getting across Wahweap Bay if the boat traffic is high can come with a lot of wake waves but the times I was out this summer were mostly calm. Well, my first trip out was fraught with high wind from an impending storm. My daughter, Lauren, and her husband, Ben, and I decided to tie off to a buoy as I was not going very far in the high wind.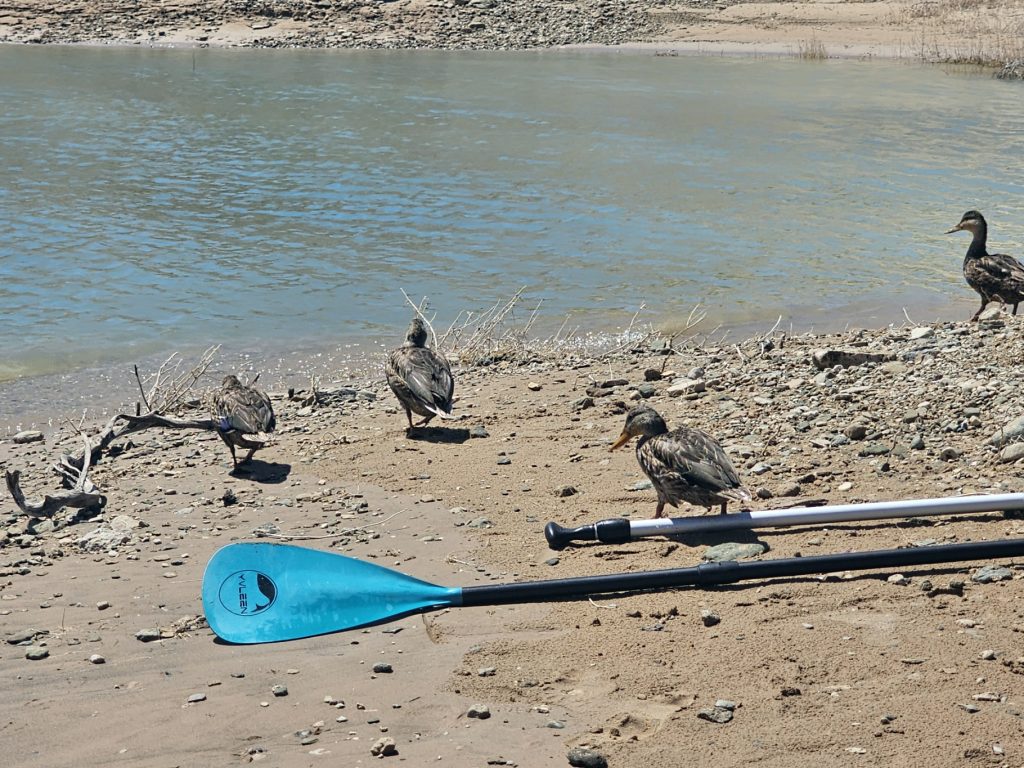 Ducks and Rest Rock
Our next family adventure a couple of weeks later saw us across Wahweap Bay and into some quiet and secluded canyons for swimming, hiking, water chair sitting (maybe my new favorite activity) and snacks. Can't forget the snacks. We found a large rock surrounded by the blue water on our way to the canyon and nicknamed it rest rock. Jumping off the paddleboards for a bit we hung out at "rest rock" going both directions. While swimming around on a pretty beach we found in one of the canyons a rather large group of ducks decided to come check us out. They were looking for snacks too. Lauren and Ben are all in on the tunes, chats, hikes, water chair sitting, and swimming so it makes for a fun day.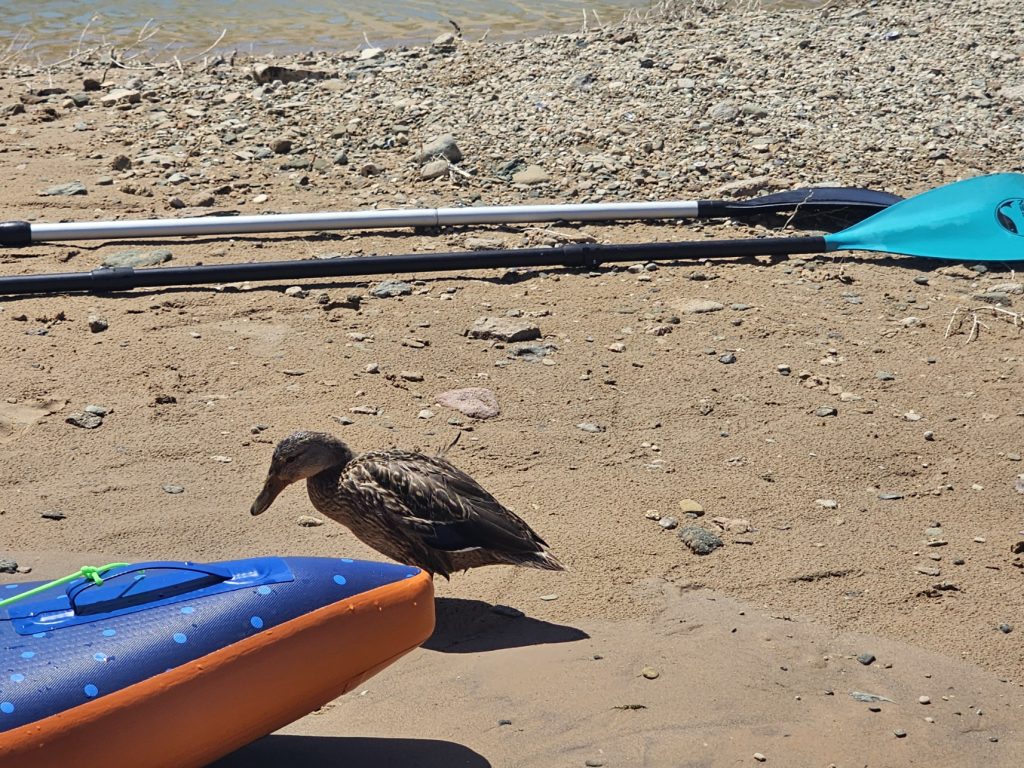 Friends, Trees, Water, Sunshine
My next adventure out was with some dear friends a few weeks later. Having made a quick plan the night before we launched early and headed across Wahweap Bay on water reminiscent of glass. This time we headed easterly and into some other canyons. Our first stop found us at a beach that was "quicksand-ish" It took a bit but all of us were safely back on the water, minus two shoes which the sand took. We found a cool beach a few minutes later and pulled over for some swim and chat time. A Great Blue Heron hung around long enough for use to get close and then flew off, circled once and disappeared.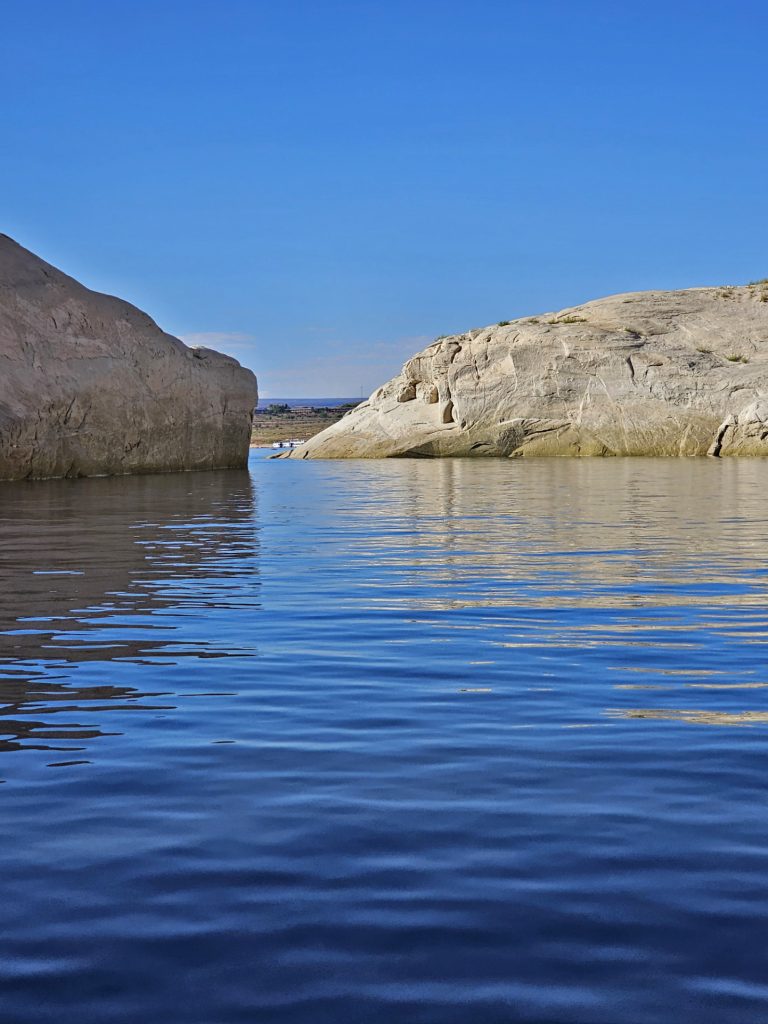 In the far north side of one of the canyons we were exploring were the most interesting of mostly water buried trees. They are firm in their place but look at one time to have washed down a side canyon in a flash flood event. Paddling through them to the back of the canyon was an experience, for sure.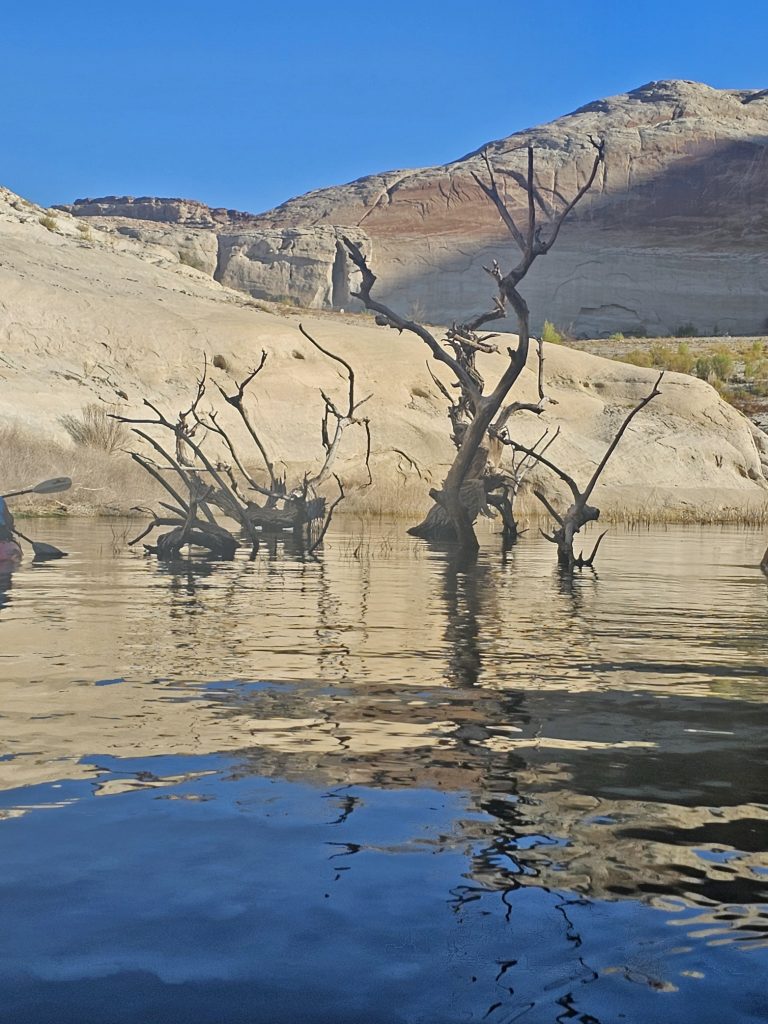 Deep Breathing In The Calm
Paddling for me is a true relaxation event. Running a real estate company keeps me busy and can be stressful so remembering to take the time away to go spend a few hours at the lake is what prompted me to buy my Body Glove Hummingbird board. There are several rental companies on the lake and my friends own Lake Powell Paddleboards, the original shop in Page, Arizona. If you are wanting to try the paddle experience look them up at https://lakepowellpaddleboards.com/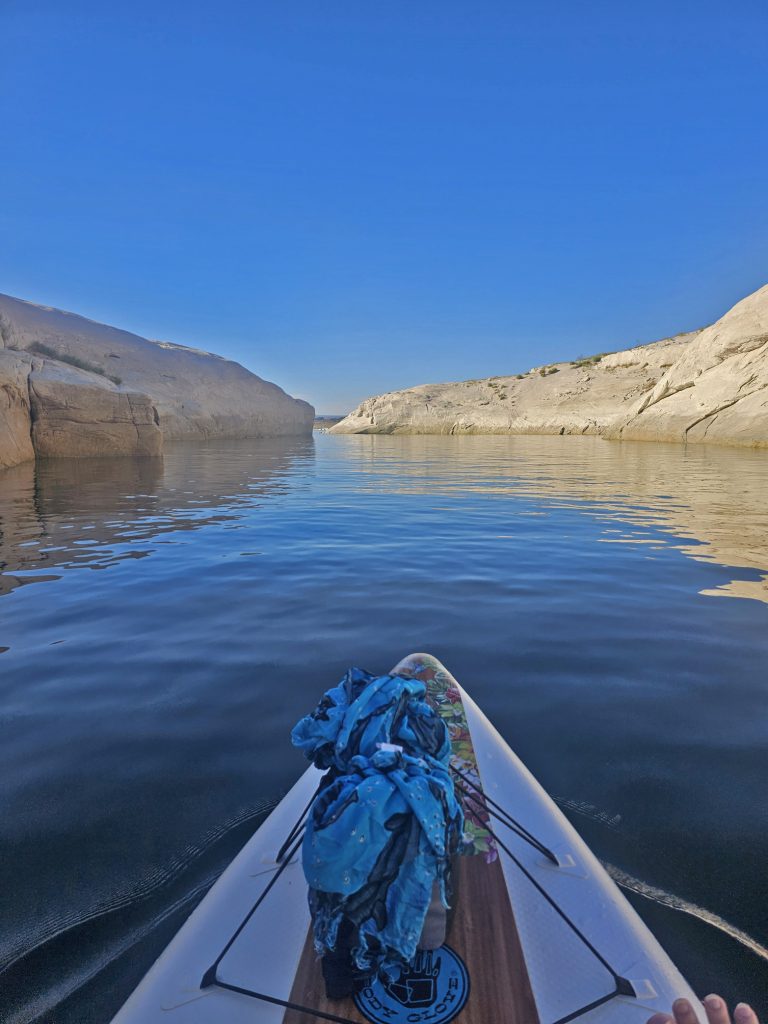 Heather Rankin is a Realtor and Owner/Broker of Rankin Realty at Lake Powell specializing in the Lake Powell areas of Page, AZ and Greenehaven, AZ as well as Big Water and Kanab Utah.
Comments
comments