Mark your calendars……it is almost here – the first ever Big Water Dinosaur Festival happening October 4th, 5th, and 6th!
Big Water is bordered by Lake Powell, the Glen Canyon National Recreation Area, the Grand Staircase Escalante National Monument and the Vermilion Cliffs National Monument. Situated on Highway 89, 60 miles east of Kanab, UT, and 20 miles west of Page, AZ and Lake Powell. The Dinosaur Festival will be surrounding the Big Water Town Hall and Fire Station at 60 Aaron Burr, just off Hwy 89 on October 4th, 5th, and 6th.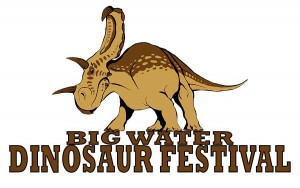 The Grand Staircase Escalante National Monument and the area around Lake Powell in the Glen Canyon National Recreation Area have some of the premier pre-historic fossils being found in the past ten years with many new species now identified.
It is time to celebrate our Ancient History!
October 4th 5th and 6th, 2013
Friday, October 4
Opening event – Lecture from keynote speaker Dr. Joseph Sertich, PhD
Curator of Vertebrate Paleontology at the Denver Museum of Nature and Science
7:00 pm to 8:00 pm AZ time at Carl Hayden Visitor Center
Saturday, October 5
Arts, Crafts and Food Vendor Fair
Kids Activities – "Funtime Inflatables"- Dinosaur themed games and activities
8:00 am to 6:00 pm AZ time (9:00 am to 7:00 pm UT time)
Live Music and Entertainment
"Dance with the Dino" with The Band Sage
6:00 pm to 8:00 pm AZ time (7:00 pm to 9:00 pm UT time )
Sunday, October 6
Driving Paleo-Tour on Cottonwood Canyon Road
With Paleontologist Alan Titus
Big Water Dinosaur Festival Paleo Tours
Cottonwood Canyon & Half-Mile Canyon Dinosaur Site
As a side note, many of the old time readers here know that I am a musician and this is a pretty big deal that my band was asked to play for this event during the Dance with the Dinosaur! I am excited and really looking forward to it.
My history with the local dinosaurs goes back to 1998 when my son, David, found several Plesiosur fossils in the desert behind our home and some 200 hours the summer of 2000 that I spent helping to dig them out. Plesiosaur – think Loch Ness Monster but with a short neck and 4 foot long jaw bones swimming in the pre-historic ocean!
Here is a previous post about that event: Lake Powell Paleontology – Dinosaurs, Plesiosaurs, and much more in Glen Canyon and The Grand Staircase Monument – Part 1
That same summer another local, Merle Graffam, found a Therizinosaur. Information on it is found in this post Therizinosaur: Mystery of the Sickle-Claw Dinosaur
We have also been fortunate enough to receive some great donations as part of our hourly raffle that will be going on, as well as items for door prizes and dance prizes.
We would like to thank all of our sponsors and those who have donated to make this event possible. A huge thank you to the Grand Staircase Escalante National Monument folks and Kane County Tourism!
Aaron's, Amangiri Resort, Overland Canyon Tours, Hidden Canyon Kayak, Lake Powell Resorts and Marinas, Lake Powell Boat Tours, Antelope Canyon Tours, Ranch House Grille, Taco Bell, RD's, Dam Bar and Grill, Levi's Customs, Vectordyne, Rankin Realty at Lake Powell, Boston's True Value, The Three Bears, Safeway, Blue Buddha, R D Enterprises, Spectrum Graphics & Design, Garkane Energy, Monument Disposal, Graphic Design Club/Page High school, Lake Powell Paddleboards.
A 365 Things to do at Lake Powell and a Lake Powell Fridays Post brought to you on Monday!
Comments
comments