Woke up this morning to an article in the Deseret News on my son, David, and his astrophotography. We moved to the Lake Powell area in 1991 and it has afforded David to do many things – find dinosaurs, tour, hike and shoot astrophotography.
This article is reprinted from the Deseret News Blog Site
Please click on the DN site to view all photos and leave feedback!
The Universe on a Shoestring
Joe Bauman
blog writer | Dec. 11, 2009 at 12:08 a.m
David Rankin, one of Utah's youngest and ablest astrophotographers, has spent an unbelievable amount of money on the hobby. An unbelievably small amount, that is.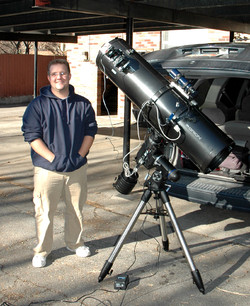 [David Rankin with his 10-inch-diameter reflector telescope and the gear he modified himself for astrophotography. Photo by Cory Bauman]
Rankin, 25, takes terrific images using a home-rigged camera that costs no more than an single-lens reflex camera. As a matter of fact, that's what it is: an ordinary Canon Rebel XSi, which has a listed price, new, of $649.99 including lens. The area of its chip is a whopping 12 megapixels. By comparison, the 8.3-megapixel CCD astrophotography camera I am saving for costs about $2,000. And his Canon remains useful for daytime photos.
Granted, these are different types of cameras. We're talking dogs and apples here, or cats and oranges: the digital single-lens reflex camera is a different breed from a dedicated astrophotography camera. Regardless, the results Rankin gets are extraordinary.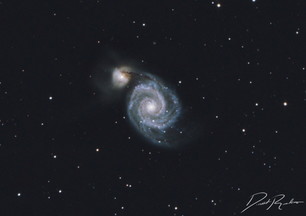 [Galaxy M51, taken by David Rankin]
Originally from Salt Lake City, he moved to Big Water, Kane County, in 1991, where the dark, clear air makes star-watching a delight. A little more than two years ago, Comet Holmes underwent a surprising expansion, becoming briefly the largest object in the solar system. Although it cruised between the orbits of Mars and Jupiter, the glowing coma was bright enough to see from a city.
"It just really fascinated me that a comet could blow up to be bigger than the sun," Rankin said. "It was the largest object in the solar system for a while."
Wanting to see it by telescope, he hit Google and found instructions to build an eight-inch scope. He obtained parts, built the tube and mounted it on a video-camera tripod in time to show the comet to his mother. Before he had the right equipment for astrophotograhy, Comet Holmes was gone.
But he was hooked. He took a photo of M42, the Orion Nebula. The tracking was horrible and the view was distorted, but "a bunch of color was coming out and that just blew my mind. It really connected me personally with space."
He obtained better telescopes and mounts and continued to improvise. The scope he uses now is a 10-inch-diameter reflector.
Rankin haunted on-line forums like cloudynights.com, searching for information about astrophotography on a shoestring. He studied the advice of follow amateur astronomers who maintain Internet sites and contribute to discussion groups.
He learned that during the longish exposures necessary to photograph dim objects like galaxies, dark current can build up on the camera's chip. Dark current produces "hot pixels," bright points that disfigure astrophotos. They can look like a scattering of salt across a view.
To prevent this, astronomical CCD cameras are cooled, reducing or nearly eliminating dark current. But digital single-lens reflex cameras, like Rankin's, are made for everyday use. They don't have coolers. You would think that any long exposure would be ruined.
Rankin extracted a CPU cooler from an old computer. When he makes such modifications, he said, "I really just use whatever I have laying around." He put together an aluminum device that he calls a cold finger, that extends into the camera and is in contact with the chip. The cold finger is "just a flat piece of aluminum," he said. In conjunction with the CPU unit, the finger conducts heat out of the camera, cooling the chip. To prevent moisture from building up, he sealed the area where the cold finger goes into the camera.
"The cold side of the Peltier (heat pump) will cool off very fast. It will get to zero quick," he said. "They're really efficient heat pumps." In his first test the outdoors temperature was 83 degrees. In 10 minutes the sensor's temperature plummeted by 49 degrees.
He reworked a web camera purchased on eBay for $10 into an astronomical guide camera. Attached to a finder scope, it's sensitive enough to guide the main telescope during long exposures.
Mount not steady enough for pinpoint tracking? No problem. Rankin disassembled and cleaned it, tuned it, used better grease and replaced the worm bearings.Additionally, he needed to learn chores like aligning the telescope properly, finding targets, guiding without smeared stars, choosing the right night to work, subtracting noise from images, and processing series of photos. But taking pictures like these is a huge reward for anyone with the patience and determination to do it.
"There's really nothing else like it," he said. "There's a sense of satisfaction. It's a sense of accomplishment."
What he loves most about it is the perspective given by astronomical photos. "When you think about what you've shot, the distance and the scale. … It puts life in perspective, how short life is."
A student at the University of Utah, Rankin maintains a web site, CLICK HERE, where he has posted his impressive views of solar system objects, galaxies and nebulas, as well as photos of his fossil finds and art work. At that site, one can enjoy the astrophotos at their full size.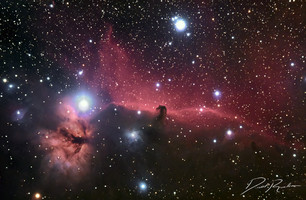 [Photo of the Horsehead Nebula and vicinity by David Rankin]
Comments
comments