OFF Market – Call me for other opportunities. As spring approaches we have a great Lake Powell area business for sale in Big Water, UT, – All Water Craft Storage
Click Photo for full Listing Info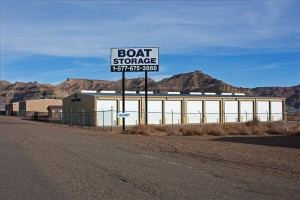 This 100% leased Class A boat / marine storage facility in superb condition and just waiting for the right owner. The greatest earning potential has not been realized due to health concerns of the current owner. With the 2 storage buildings, work shop and home there is a total of 17,896 finished space.
The personal water craft (PWC) rental business is huge in the Lake Powell area, more so since the NPS stopped all 2 stroke engines from going on the Lake. Not only tourists but also locals are looking to rent the allowed 4 stroke PWC's.
Boat Rentals. That is a wide open field with great potential
Launch and Retrieval services of rental boats and PWC's.
Boat and PWC sales, as well as water toys and other sundry lake items.
On the service side, fiberglassing services, substantial maintenance including repair, or replacement, of engines could be done as well as boat detailing. Currently the shop handles basic maintenance such as winterizations and de-winterizations, battery replacements, etc, but all other work gets sent out. The shop is set up for a full time mechanic to be working and that has never been utilized.
For more information call Heather at 928-691-6444 and click through to the listing
All Water Craft Storage For Sale
Search Lake Powell Homes For Sale


For More Information

Or Call 928-691-6444
Your Lake Powell REALTOR
Heather Rankin is a Realtor and Owner/Broker of Rankin Realty at Lake Powell specializing in the Lake Powell areas of Page, AZ and Greenehaven, AZ as well as Big Water, UT The only local real estate blog written by a local Realtor since 2008
Comments
comments