Endless Exploration
This is a new post in a Rankin Realty series called Endless Exploration.
To read the first post in the series, visit http://rankinrealty.net/endless-exploration/
Considering it was the month of December, it was a fairly warm morning in Winter 2017 when I set out to explore the White Pocket area of the Vermilion Cliffs National Monument with the Kanab, Utah Tour Company "American West Scenic Adventures". But then, even if it had been really cold: I've always done the better amount of my hiking during the winter time. Simply put: I enjoy not feeling like I might succumb to heat stroke in the Desert Sun, or that I might be washed away in a moments notice. In addition to the cooler temps and reduced (not eliminated) flash flood risk, there are fewer visitors to our backyard in the winter months. No crowds!
The White Pocket area had been on my bucket list for some time. Despite it's proximity to my hometown of Big Water, Utah: I had never explored any of the Vermilion Cliffs National Monument. And though I've always been one to pioneer my own adventures, something told me I should have experienced insight for this one.
Early that morning, I met with AWSA Guide/business owner Jeff Welker and loaded up in a spacious, comfortable, brightly colored suburban with a family traveling from Sweden. How about that heated seats technology? Wow. Had I gone alone, it would have cost more: but Jeff worked a lower price for me to fit in along with the Swedes. Soon, we were at Willow Canyon Outdoor and Apparel chatting with friendly employees as we gathered fresh coffee and delicious Bok Lava Cake for our journey. As we set out on our 1.5 hour drive, we exchanged introductions and the vehicle filled with pleasant conversation in no time at all. Pines, Spruce, Oak, and Juniper Trees rose up around us on each side of Highway US-89A, beyond Fredonia, and into the Kaibab National Forest. From the top of the Kaibab Plateau, we beheld a magnificent birds-eye view of Grand Staircase Formation: the Vermillion Cliffs of Kanab, the White Cliffs, to the Pink Cliffs of Zion. Naturally, the visitors from Sweden had many questions for long-time-locals Jeff Welker, and myself. Jeff was kind enough to give me the stage at times and share my limited knowledge of the region's geography. But we also told stories of past adventures, compared our Countries, and talked about gardening. Jeff led a wonderful conversation atmosphere.
In the blink of an eye, we exited the forest and dropped down a steep hill into Marble Canyon, Arizona. What was once a wall of trees all around us opened up into wide blue skies and tall red cliffs. Up ahead, a little house of white and turquoise stones sat alongside a winding desert road that reached into the wilderness.
"House Rock Valley Road," Jeff said. "That's where we're headed."
Not long after we left the highway and began the off-road portion of the tour, we arrived at a parking lot with bathrooms. Jeff encouraged us to keep our eyes to the skies, searching for faint black silhouettes of the endangered California Condor. We had arrived at the Vermillion Cliffs National Monument's Condor Viewing Area, one of the hubs of the Condor Recovery Program. A Binoculars stand was dug into the earth next to the picnic tables. We took turns peering through, witnessing North America's largest land-birds. The gravel road faded into thick sand, which our Guide navigated masterfully in the suburban. About half an hour after we left the highway, we reached a second parking area in the desert and set out on foot through the sand to the swath of sandstone known as White Pocket.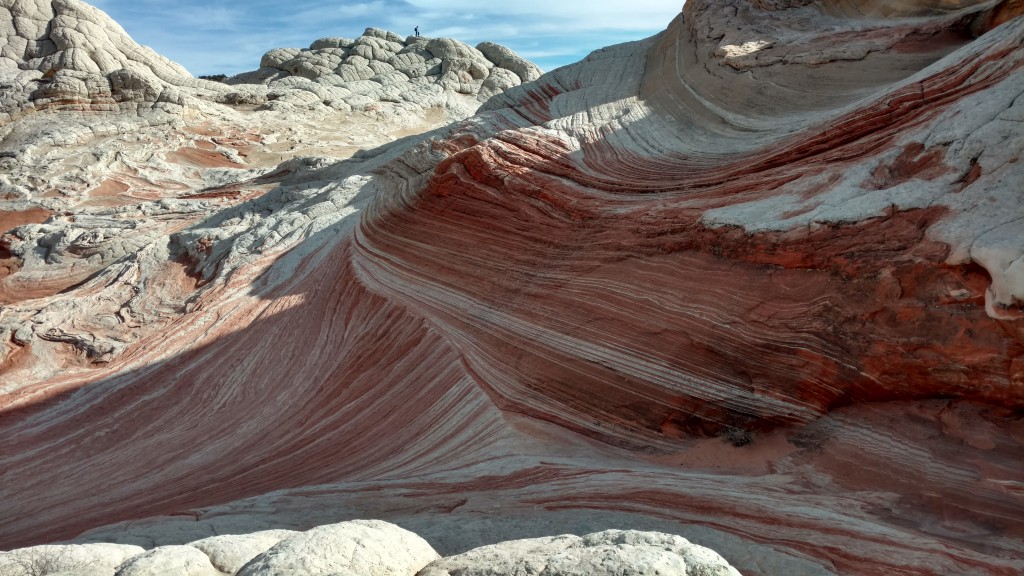 White Pocket was fascinating. Strange formations rose out of the rock, ponds rested at their base, and the rocks were striped many hues of red and white. The occasional Juniper Tree burst through.  Jeff told us to feel free to take our time to explore, while also recommending the best spots to take in expansive scenery, stand beside dinosaur footprints, or catch a great photo.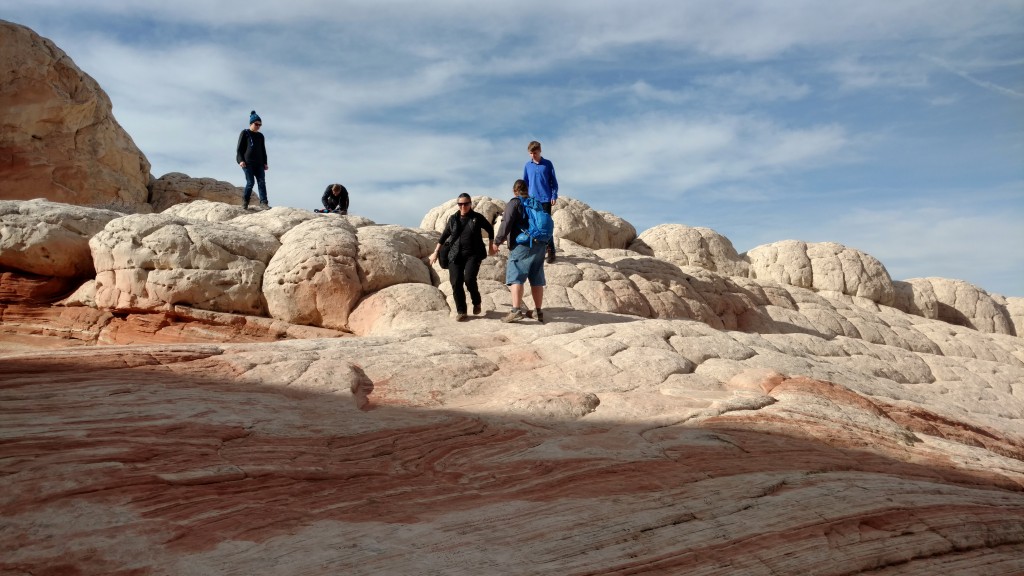 Kanab Tour Guide Jeff Welker guides Swedish Family through White Pocket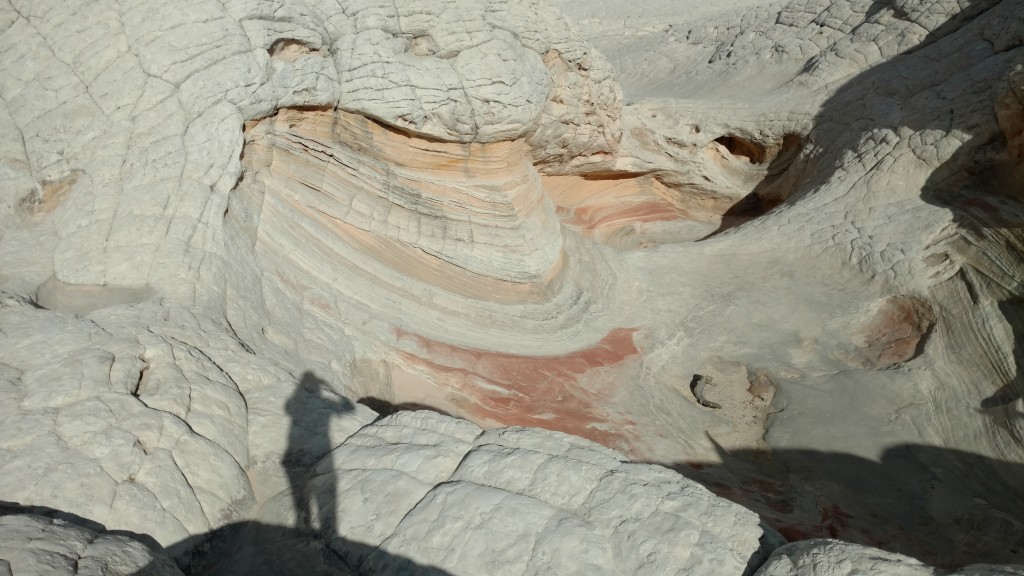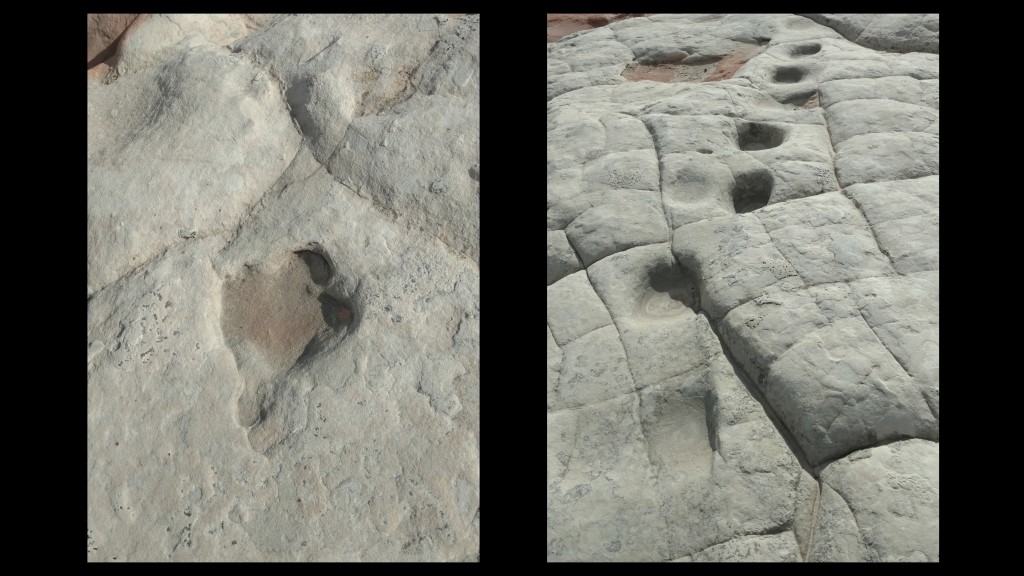 A few other tours were around, but overall, the area was remarkably un-crowded given it's beauty. After entering down into a lower region of White Pocket through a little section similar to a Slide, we sat down for a picnic. Each of us brought our own lunch. After a few hours of taking in all the sites we came here to see, we gradually began heading back to the Suburban. The tour wasn't over yet though, because between us and the parking lot, we stumbled into a pocket of the alien-like Moqui Marbles! Many of the little black stones were actually UFO shaped.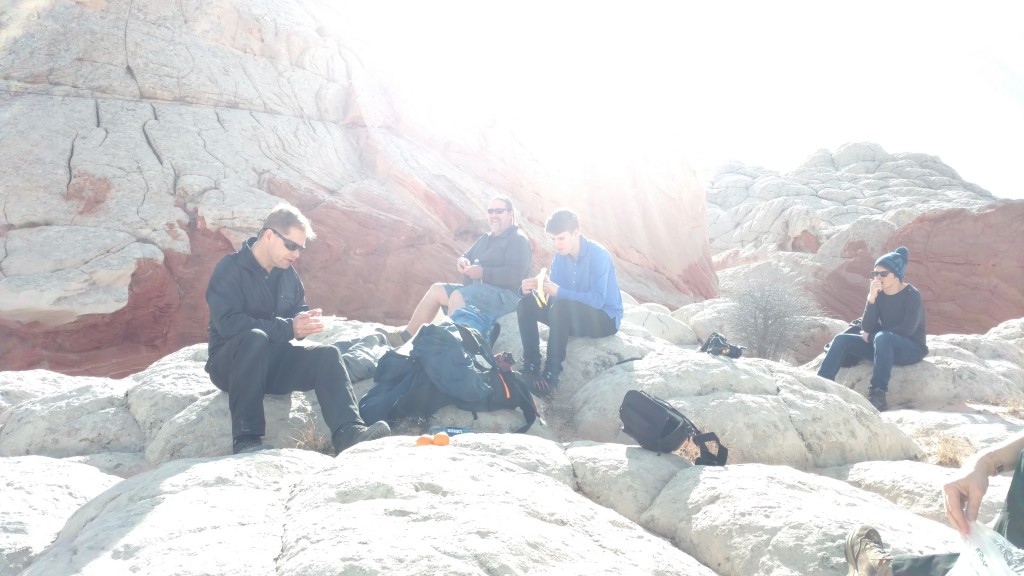 Visiting the White Pocket area gave the mind lots of reasons to try to imagine the many forces of Nature… How the wind and rain could erode such a masterpiece. AWSA Tours offered us the necessary time, space, safety, and expertise to dwell in such thoughts as we engaged ourselves with the landscape.
Comments
comments