For many years, the count I believe has been lost, Big Water, UT has celebrated "Bird Day" with an old fashioned fair.
This year Bird Day will be held at Big Water School beginning at 10 a.m. Arizona Time.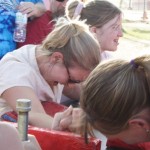 Arm Wrestling Contest from a couple of years ago!
Information from the organizers:
Saturday, May 3rd at the Big Water School
Beginning at 10 a.m. Arizona time Saturday morning with events running through the day. Events will feature all age groups and there is no admission fee so please bring your family and friends.
Lunch will be a potluck so please bring something to share for lunch!
Also, awards will be offered for event winners.
Events to be featured:
Egg Hunt
Treasure Hunt
Egg Decorating
Egg Race
Water Balloon Toss
Drawing Contest
Scavenger Hunt
Assorted Kids Games Plus Many More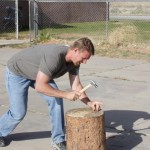 Dessert Contest
This is a way to show off what you can do! All desserts must be submitted by 3 p.m. Saturday to the Big Water School Cafeteria. The winner will get a gift certificate for dinner at Peppers Restaurant and Cantina but all desserts MUST be home made! Entries will be judged on these categories:
Creativity, Originality, Presentation and Taste.
Desserts will be auctioned and all proceeds donated to help fund next year's Bird Day.
For the 23 years I have lived in Big Water, Bird Day has been an event all look forward to. I still have "Bird Awards" from 20 years ago 🙂
If you are in the Page, Lake Powell, Big Water area come and enjoy the fun!
Heather Rankin is a Realtor and Owner/Broker of Rankin Realty at Lake Powell specializing in the Lake Powell areas of Page, AZ and Greenehaven, AZ as well as Big Water, UT including Page new home sales at Indigo Ridge and Amangiri.
Comments
comments