I own and have been writing the Lake Powell Real Estate Guide since early in 2008 and enjoy sharing my love of our area, local events, real estate insights and mortgage information. The Guide was the first of it's kind and therefore, now, the oldest. We also has the distinction of being the only Lake Powell site written by a local real estate broker.
It seems natural to expand with the goal of helping our local real estate home buyers, property buyers, folks just looking, potential sellers, and curious passerbys, by opening a new site just for Lake Powell area real estate searches.

Rankin Realty at Lake Powell's new site is

www.lakepowellhome.com
Clicking on the photo will open the search site in a new window: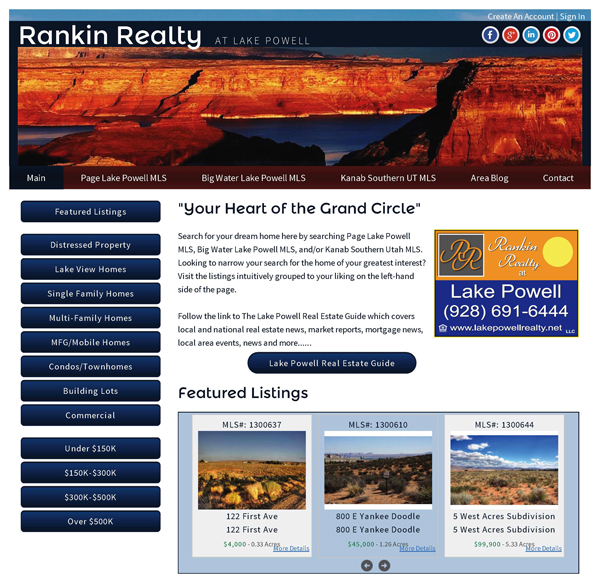 Flow and continuity between the two sites was a primary concern but ease of use was the main objective.
From the Home Page you can search the Page and Big Water MLS's together for Single Family Homes, Manufactured Homes, Lake View Homes, Condo's, Building lots, and several other choices. There are also searches by price breakdowns such as Under $150,000 or between $150,000 and $300,000.
You can easily search any of our three local MLS's including the Page Lake Powell MLS, the Big Water Lake Powell MLS, and the Kanab Southern Utah MLS. Search can be done by price, views, foreclosures, maps, and narrowed down any number of different ways. Searchers can sign up for email alerts for homes new on the market that match their search criteria so they don't miss out on that "perfect" home.
A simple search allows the user to put it just the basics, while the advanced search covers almost any variable area of information provided on each home or property in the MLS. Searches call also be done by MLS number or, one of the coolest things, on a map function
You will also find my Featured Listings scrolling across the bottom of the home page or you can access them by clicking the "featured Listings' button. The featured listings on this site will remain the same keeping the individualized webpages for each home, business, or property I have listed.
On this site the Search menu at the top will move you over to the new site, as will the two specific Lake Powell property search buttons on the right side.
The photographs scrolling on the page were taken by myself or my son, David, and capture some of the wonder of the area referred to as the "Heart of the Grand Circle"
Please feel free to send suggestions or any features you would like added to the new site or leave feedback.


Heather Rankin is a Realtor and Owner/Broker of Rankin Realty at Lake Powell specializing in the Lake Powell areas of Page, AZ and Greenehaven, AZ as well as Big Water, UT including Page new home sales at Indigo Ridge and Amangiri.
Comments
comments