In November of 2014 Huffington Post published an article on The Worlds 20 Most Beautiful Lakes. Lake Powell was up against some pretty stiff competition and did well.
From the article
A few of these irresistible bodies of water owe their charisma to climate, others to geologic luck of the draw, and some are even made by the humans who admire them. These 20 beautiful lakes–some of which may surprise you–differ in the details, but all are uniquely beautiful and well worth a visit.–Donna Heiderstadt
First on the list was Lake Como, Lombardy, set in the mountains and surrounded by stunning homes in Northern Italy. Lakes in Canada, India, China, Tasmania and Swizerland as well of a host of other countries made the list.
Not too far down on the list, in fact at #7, is Lake Powell.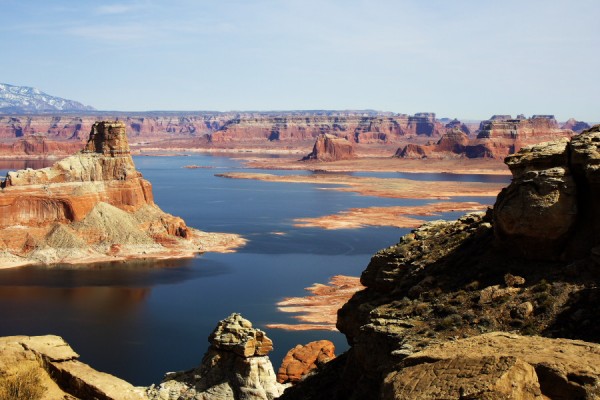 Photo by Heather Rankin
Sometimes man's handiwork rivals nature, as is the case with Lake Powell, the striking free-form lake created in 1963 by damming the Glen Canyon and creating the U.S.'s second-largest man-made lake. Lined with beaches and popular with houseboat owners and sport fisherman, it photographs like a dream—a sublime mélange of swirling red-rock canyons and vivid sapphire-hued water. To enjoy the area take a boat tour to impressive Rainbow Bridge National Monument.
The only thing that really caught my eye is the title "Lake Powell, Arizona" which should have had Utah added. Lake Powell sits on the state lines of Utah and Arizona with 95% of the lake being in Utah. The dam and 2 major marinas, Wahweap and Antelope Point are on the Arizona side. Utah has Stateline, Halls Crossing, Dangling Rope (by Rainbow Bridge and accessible only by water) and Bullfrog marina.
At 186 miles long, 1960 miles of shoreline when it is full, and 560 feet deep at Glen Canyon Dam, there is a lot of space to enjoy this true beauty of the American West and now one of the top lakes in the world, at least according to Huffington Post, and me 🙂
Comments
comments