The last 25 days have seen a good up-tick in real estate sales and movement in the whole Lake Powell area. Usually we see this up-tick starting shortly before March but here we are just over 3 weeks in to January and we are busy! With mild weather and the daytime temperatures hovering in the mid 50's to the low 60's folks are out and looking at real estate.
In the past 30 days we have had 9 transactions close in the Page and Greenehaven area, including 7 homes.
In the past 30 there have also been 12 listings go "under contract" and make it to the pending list and 3 of them have already closed as well.
That compares easily to the same 30 days from December 2012 to January 2013 when 3 transactions closed and  4 went "under contract" to pending status.
Real Estate is moving in Page and buyers are active.  Following is an in-depth look at the Page AZ real estate market.
Page AZ homes for January 2014
Our inventory, or number of homes on the market, has also declined 15% from 54 Single family homes on the market in June of 2013 to 46 active homes for sale in Page, Arizona, today. There is a wide variety to choose from within the 46 active listings. The least expensive home on the market is on 10th Avenue listed at $107,000 and the most expensive is a lake view home on West View Drive listed at $1, 299,900 which has 4 bedrooms, 4 baths, over 3,600 square feet.
The median price of all homes on the market today is $239,500 comparable to $239,900 in June of 2013. Our  market did not see the big upswings of the mid 2000's nor have we see a large down turn rather it has remained stable making a good environment for both home buyers and sellers.
Here is the break down of what is currently for sale
From $107,000 to $175,000 there are 6 homes for sale
$175,000 to $200,000 there are 4 homes for sale
$200,00 to $250,000 there are 17 homes for sale
$250,000 to $300,000 there are 7 homes for sale
$300,000 to $400,000 there are 4 homes for sale
Over $400,000 there are 8 homes for sale
These numbers show the larger portion of homes on the market are between $200,000 and $250,000 with two to three times more for sale than in any other price bracket. This dynamic remains much the same year over year.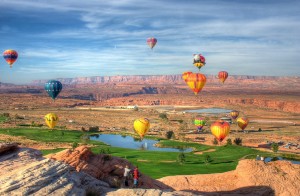 Manufactured Homes for Sale in Page Arizona
Once again the number of homes for sale on the market which are manufactured has declined from 16 in June of 2013 to 13 today. We still have a good variety and price range to choose from within the active listings. The average price of a manufactured home in Page is $123,077 while the median price is $125,500.
Further break downs are as follows
From $70,000 to $100,000 there are 4 manufactured  homes for sale
$100,000 to $125,000 there are 3 manufactured homes for sale
$125,000 to $150,000 there are 4 manufactured homes for sale
$150,000 to $175,000 there are 2  manufactured homes for sale
Some buyers are concerned as they first consider buying a manufactured home. In the Page Lake Powell area a good percentage of our housing is manufactured homes on privately held property meaning they are considered a home for financing and taxation purposes. I have several good lenders I work with to secure loans for manufactured homes and I see more and more lenders financing these daily so there are several to choose from.
Property for Sale in Page, Arizona
There area currently 31 vacant home lots for sale in Page and 3 commercial properties. Two of the properties are suitable for manufactured homes, several are mixed use, and most are single family home building lots.
One bargain priced property at $32,500 stands out of the mix in Ranchette Estates as part of an estate sale and is listed several thousand dollars below other properties in that area.
Honey Draw subdivision which borders Ranchette Estates off of Pinto is now selling lots with 20 currently on the MLS which range in price from $55,000 to $87,565. Lots are sized from .23 of an acre to .37 of an acre. Utilities are stubbed to the property line and the owner is willing to carry the financing with a down payment. Call me if you would like more information.
The minimum priced property for sale is $32,500 for .23 of an acre and the maximum is $239,999 for a .21 acre lake view lot on Navajo. Also worth note are the two combined lots on Rimview for over a half acre at .55 listed for $190,000. There are several home builders in the Page Lake Powell area to choose from that can handle anything from manufactured home set up to custom site built homes which maximize the stunning views of our area.
With a good selection of homes for sale in Page, now is a great time to be a Lake Powell home owner. Be sure to ask me about USDA zero down loans for our site built homes and FHA. VA and Conventional financing for our manufactured housing as well as our site built homes.
Search Lake Powell Homes For Sale


For More Information

Or Call 928-691-6444
Your Lake Powell REALTOR
Heather Rankin is a Realtor and Owner/Broker of Rankin Realty at Lake Powell specializing in the Lake Powell areas of Page, AZ and Greenehaven, AZ as well as Big Water, UT including Page new home sales at Indigo Ridge and Amangiri.
Comments
comments