The Lake Powell Pipeline is back in the news this week. I've followed this proposed project over the past years on this site. Background info can be found in links at the bottom of this post.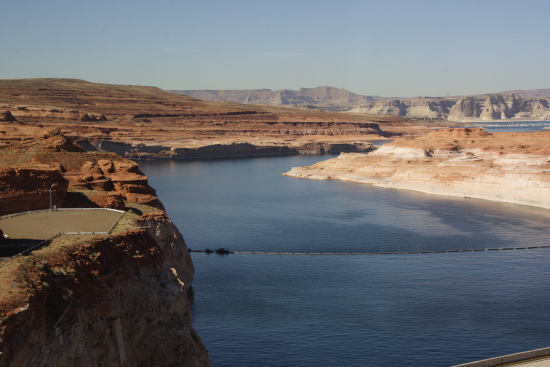 The proposal on the table is to build a @ $2 billion dollar project which includes a 66 inch pipeline from Lake Powell 120 miles to Sand Hollow Reservoir, above St. George, UT. This pipeline would deliver 70,000 acre feet of water annually to St. George. Kane County would receive 10,000 acre feet and Iron County 20,000 acre feet. One acre foot of water is 325,851 gallons and is roughly enough water for a family of four for one year. The Washington County Water Conservancy District has paid for the studies so far.
This week population growth numbers released by the Governor's Office of Planning and Budget (GOPB) for the affected counties, came in some 40% below what was forecasted in 2008. The 2010 numbers are also lower, which was a 2 year-out projection. 168,000 projected for 2010 actually came in at 139,000 residents in St. George, Washington County area, almost 30,000 less.
The big downturn comes from the new forecast for the 2040 population at 314,000, or 56 percent of the original projection.
The Pipleline has been controversial from the beginning with residents concerned about how it is going to be funded, environmental concerns, water concerns, and the actual route of the pipeline has also been contested. Iron County, scheduled to receive water from this project has had an on again, off again desire to be part of the pipeline.
Residents in the Page Lake Powell, Big Water, Utah and Eastern Kane County areas are not expected to see much benefit from the pipeline. There would be an immediate short term housing need for initial construction workers but no water was projected for use in these areas. Eastern Kane County receives water from the Navajo Aquifer and is not projected for growth to outpace our water availability.
As of today, more research is happening, more numbers being crunched and Eric Millis, deputy director of the Utah Division of Water Resources, said his agency will wait for final numbers before deciding whether to delay the project.
"Then we will look real hard at the need for the project," he said. "We don't want to build a project until it is needed. We don't know if this could delay the need by five years, or 10 years or longer than that. We're waiting to see what the final numbers say."
Lake Powell Pipeline Background
Real Estate and the Lake Powell Pipeline Part 1
Real Estate and the Lake Powell Pipeline Part 2
Real Estate and the Lake Powell Pipeline Part 3
Lake Powell Pipeline Receives Study Approval
Comments
comments