Page AZ Tourism Press Release:
Those Unclothed Guys Return to Sounds of Summer Series
Naked Waiters bare their musical souls in August!
Follow them on Facebook at  The Naked Waiters  
Page, AZ August 6, 2015:   The Page Lake Powell Tourism Board's Sounds of Summer series presents "The Naked Waiters," Wednesday, August 12th and 26th at 7pm!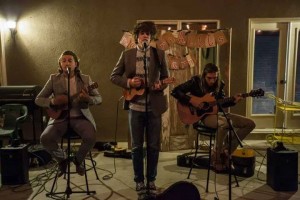 The Naked Waiters is an acoustic, ukulele-based group that started in Cedar City, UT, and is now based in Provo, UT. They specialize in fun, melt-your-heart music that's good for the soul. They are comprised of Kim Bjerga, Clark Holmes, and Andrew Nufer.
Kim and Andy have been friends for years, having known each other throughout high school and living together as roommates. They also were in another band, Apollo's Army, together previously. While living together, they met Clark at a crepe party at their apartment, where Clark picked up Kim's ukulele and would jam out. Kim and Andy decided to learn a couple songs with Clark, then the three came together when a mutual friend, Ben, asked Kim and Andy to serve dinner to him and a date wearing nothing but speedos. The band was born when they decided to take it one step further. The duo stripped, wore only aprons and bowties, called Clark, had him do the same, and sang love songs to Ben and Jen.
Since then, the three have played at everything from farmers' markets and festivals to weddings, private birthday parties, various concerts and battle of the bands, one of which (the Provo Acoustic Battle of the Bands at Joes Grill) they placed first.
They are currently living in Provo, Utah, where they are performing everywhere they can and enjoying playing their music.
The concert is free to the public.
Also Tomas Hunt continues to perform Native American dances on Monday and Saturday nights respectively at 7pm. Monday night performances are in City Park and Saturday is at Memorial Plaza, 697 Vista Ave. And Movies in the Park are shown on Tuesdays and Thursdays at 8pm.
The City Park entertainment location faces N. Lake Powell Blvd.  Express Public Transit's shuttle will be available to transport to and from the venues with a route stopping at most hotels in town, for a fee.
Another in our Lake Powell Fridays Series
Comments
comments